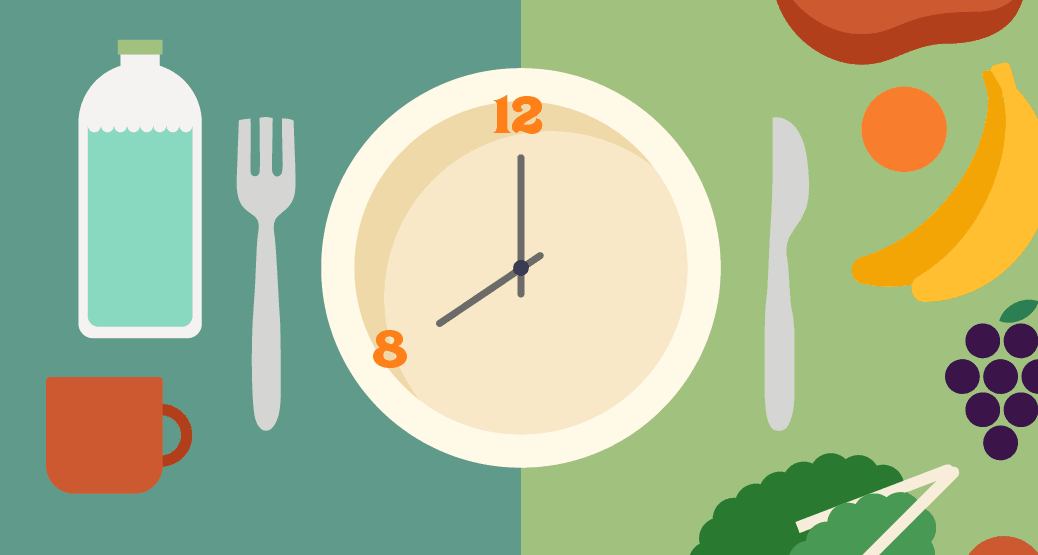 Gewicht verliezen en gezonder worden met Intermittent Fasting
Gewicht verliezen en gezonder worden met Intermittent Fasting
Ongeveer 2 jaar geleden woog ik 100kg en dat was het moment om iets aan mijn gewicht te gaan doen. In een jaar tijd raakte ik 20 kg kwijt, hoe ik het deed? Dat lees je in deze blog.
Op het moment dat je graag gewicht wilt verliezen moet jij jezelf eerst afvragen waardoor je overgewicht hebt gekregen. Bij mij had dit te maken met een traumatisch ervaring en een slechte relatie. Hierdoor at ik enorm veel en fout voedsel en begon ik steeds zwaarder te worden. De eerste stap naar gewichtsverlies was het verwerken van mijn problemen en trauma's. Je kan namelijk niet met je lichaam beginnen als het in je hoofd nog niet goed zit. Met elke kleine tegenslag val je dan weer terug in je oude eetpatroon.
Nadat een groot gedeelte van de problemen waren verwerkt werd het tijd voor de volgende stap, gewicht verliezen en gezonder worden. Maar waar begin je en hoe krijg je het nu voor elkaar om ook daadwerkelijk lichter te worden. Ik had wel eens gehoord over Intermittent Fasting maar mij hier nooit zo in verdiept. Intermittent Fasting is geen dieet maar een eetpatroon. Je eet normaal en gezond voor 8 uur per dag en je vast en eet niks voor de andere 16 uur per dag.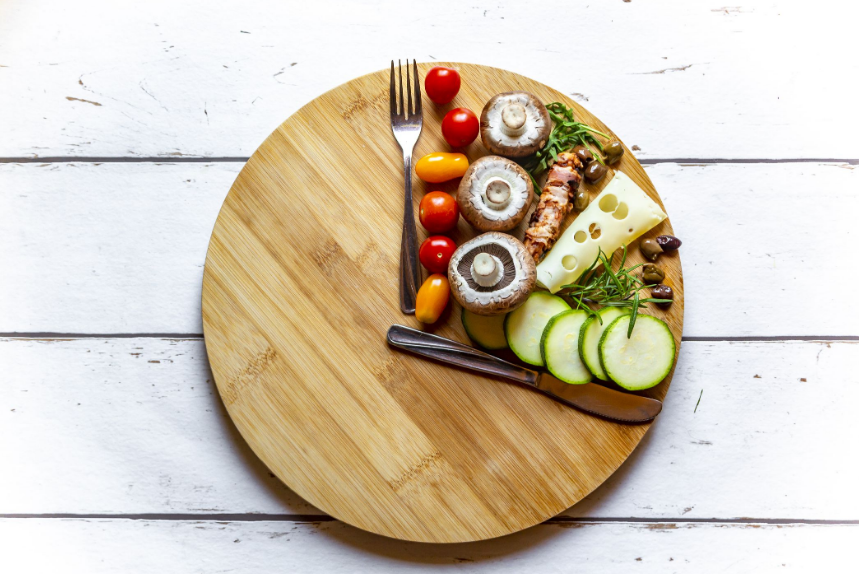 Nou zal je vast denken, is dat niet ongezond om een maaltijd over te slaan? Nou nee dat is het niet, het kan juist hele goede voordelen hebben voor je lichaam. Even wat theorie. Op het moment dat je hebt gegeten begint je lichaam met het afbreken van de voedingsstoffen, je insuline spiegel stijgt en na ongeveer 8 tot 12 uur is je insuline spiegel weer op normaal niveau. Zorg je ervoor dat je na die 12 uur niet direct begint met eten dan begint je lichaam met het afbreken van jouw vet cellen. Het menselijk groeihormoon begint vervolgens te stijgen en dat bevorderd ook weer het verlies van lichaamsvet. Ben je een fanatiek sporter dan is dit weer een extraatje want het groeihormoon zorgt voor het beter behouden van de spiermassa.
Naast de voordelen voor je insuline spiegel en het toenemen van het menselijk groeihormoon maakt je lichaam ook noradrenaline aan. Dit is een stresshormoon die ervoor zorgt dat je lichaam vetzuren uit je vetcellen vrijmaakt voor verbranding. Hierdoor gaat je stofwisseling met 14% omhoog.
Zoals je al leest zorgt Intermittent Fasting voor een aantal voordelen die helpen bij het afvallen. In het begin ben ik begonnen met het overslaan van mijn ontbijt. Ik startte de dag met een glas lauw warm water en daarin een halve uitgeknepen citroen. Dit zorgt ervoor dat je geen honger gevoel hebt en geeft je lichaam natuurlijke vitamine C. Daarna dronk ik in de ochtend alleen maar water, thee of koffie en dat zonder toegevoegde melk of suiker. Zodra het 12 uur was nam ik een normale lunch en startte mijn 8 uur eet moment. Houd er wel rekening mee dat je niet gaat bunkeren in de eettijden, dit kan zelfs voor gewichtstoename zorgen. Zolang je gezond en afwisselend eet kun je alles eten wat je wil. Na het avondeten nam ik vaak nog een dessert en om 8 uur begon dan mijn vasten periode.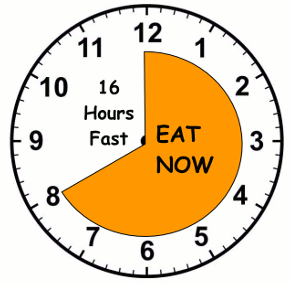 Intermittent Fasting draagt er ook aan bij dat je uiteindelijk minder calorieën eet op een dag. Doordat je het ontbijt al overslaat en in de avond geen snacks meer neemt na 8 uur, krijg je in totaal minder eten binnen. Zoals ik al zij in het begin, het is geen dieet maar een eetpatroon en zolang je die ook aanhoud kun je van de voordelen profiteren.
Betekend dit nou dat je nooit meer een ontbijtje kan nemen of een zak chips kan leeg eten op de bank? Nee zeker niet, Intermittent Fasting werkt al als je het 4 of 5 dagen per week toepast. Maar hoe vaker je een uitzondering voor jezelf maakt, hoe minder snel je gewicht gaat verliezen.
Na een aantal weken of maanden van Intermittent Fasting kun je erachter komen dat je eigenlijk nog wat sneller gewicht wil verliezen. Dit kun je combineren door na de 16 uur vasten en 8 uur eten periode, 2x per week het 23 uur vasten en 1 uur eten toe te passen. Dit zorgt ervoor dat je nog meer profiteert van de vast periode en ook hier zal je lichaam zich weer op aanpassen.
Het is mij gelukt om 20kg aan gewicht te verliezen door het ontbijt over te slaan en in de avond geen snacks meer te eten. Ik was zo aan het eetpatroon gewent dat ik het ook niet eens meer merkte dat ik nog geen ontbijt had gehad. Elke maand ging er weer wat gewicht af en zag ik mijn hele lichaam veranderen. Daarnaast hoefde ik mijzelf niet continu te verbieden om eens een koekje of chocolade te eten.

Intermittent Fasting kan met verschillende schema's. Voor mij was de 16/8 methode de meest ideale, maar je hebt ook de 12/12 methode of de 5:2 dieet waarbij je 5 dagen per week normaal eet en 2 dagen per week vast. Ook kun je kiezen voor de om de dag methode waarbij je 1 dag normaal eet en 1 dag vast. Maar dat lijken mij allemaal erg lastige methoden.
Maak je gebruik van dit eetpatroon dan betekend het niet dat je verder helemaal niks meer hoeft te doen. Het zorgt ervoor dat je gezonder wordt maar dat betekent wel dat je alsnog gezond moet blijven eten. Ook beweging en sporten is erg belangrijk en wil je sneller resultaat dan kan veel sporten en minder eten hier aan bijdragen.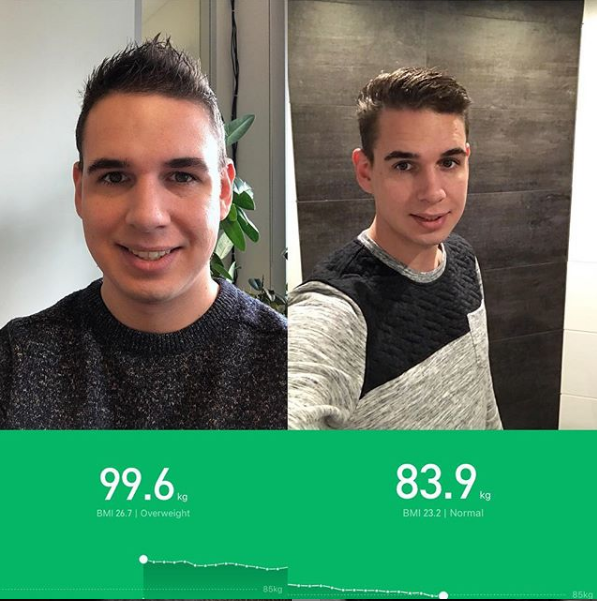 Voor mij was het een succesverhaal, maar ik moet je ook eerlijk het volgende bekennen. Op het moment dat ik mijn streefgewicht van 79kg had behaalt heb ik het hele eetpatroon laten vallen. Ik begon weer te ontbijten, at regelmatig snacks in de avond en nam vaak een tussendoortje. Met als resultaat, je raad het al, een gewichtstoename van 7 kg.
Als je op gewicht wilt blijven is het dus erg belangrijk dat je vasthoud aan jouw eetpatroon. Heb jij jouw streefgewicht bereikt, verlaag dan de vast periode van 16 naar 14 of 12 uur. Ik ben ook weer op het punt gekomen dat ik mijn eetpatroon weer oppak en hoop rond de zomer weer op mijn streefgewicht te zitten.