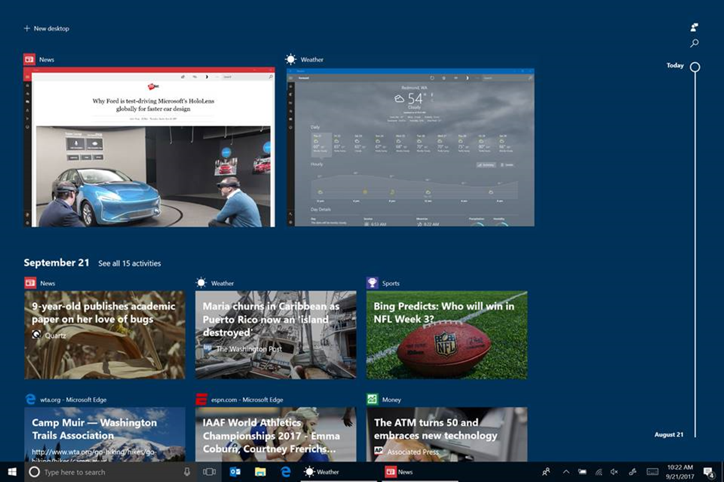 Windows 10 Lente Update
Windows 10 Lente Update
Zoals je wellicht hebt gemerkt is Windows 10 geheel anders dan voorgaande Windows versies. In de oude Windows versies had je één keer in de zoveel jaar een nieuwe versie, de oude versie werd tussentijds alleen bijgewerkt met een ServicePack of maandelijkse updates. Installeer maar eens Windows XP op jouw computer, nadat Windows er vers op staat krijg je via Windows Update een gigantische lijst met updates. Nou met Windows 10 heeft Microsoft het heel anders aangepakt. Naast de maandelijkse updates verschijnen er elk jaar of half jaar ook een geheel nieuwe versie van Windows 10. Zo is Windows 10 een groeiend besturingssysteem die jaarlijks wordt bijgewerkt met de nieuwste functies.
In april 2018 staat er weer een nieuwe update klaar, ik heb alvast de bèta (testversies) geprobeerd en vertel je hieronder meer over de nieuwe functies die jou staan te wachten.
Timeline
Ik begin gelijk met de grootste vernieuwing in Windows 10, de vernieuwde tijdlijn functie. Windows houd jouw activiteiten bij op al jouw apparaten denk bijvoorbeeld aan jouw laptop, iPhone en desktopcomputer. In de tijdlijn zie je wat je de afgelopen tijd hebt gedaan en je kunt dit gelijk weer oppakken en verder werken. Even een voorbeeld, je bent op je iPhone bezig geweest met het schrijven van een document, een dag later start je jouw laptop en opent de tijdlijn je kiest het document en kunt gelijk verder werken. In het weekend wil je verder werken thuis rustig aan het bureau op je desktopcomputer, ook daar open je tijdlijn en je werkt gemakkelijk verder in hetzelfde document. Dit is natuurlijk zeer gemakkelijk en ook een nieuwe functie waar ik erg enthousiast over bent. Nooit meer zoeken naar bestanden of moeilijk documenten uitwisselen met je telefoon en computer.
Fluent Design
Een jaar gelden is Microsoft begonnen met een nieuw basis ontwerp, ze noemen dit Fluent Design. In de nieuwste update vindt je dit terug in nieuwe animaties, visualisaties en vormgeving in bijvoorbeeld het start menu en de instellingen app. Maar ook app's gaan steeds meer gebruik maken van dit nieuwe ontwerp.
Cortana
Windows 10 heeft ook zijn eigen virtuele assistent, helaas spreek zij nog geen Nederlands waardoor deze verbeteringen in de nieuwste Windows versie voor ons geen verschil uitmaken.
Edge Browser
Je kan al een tijdje gebruik maken van de nieuwe Edge browser in Windows 10 die de traditionele Internet Explorer opvolgt. In de komende update heeft Microsoft weer een hoop verbeteringen aangebracht. Daarnaast is Edge ook beter geschikt voor het lezen van ebooks en het bekijken van pdf-bestanden. Ook het lezen van een boek in de Edge browser werkt met de tijdlijn waardoor je gemakkelijk verder kan lezen op een ander apparaat.
Touch en Pen
Aangezien er steeds meer apparaten komen met een Touch screen en Windows 10 is de besturing weer flink verbeterd. In de nieuwste versie krijg je een gemakkelijk Touch toetsenbord zodra je een tekst vak aanraakt in Windows 10.
Near Share
Applegebruikers kennen de functie iDrop al, zodra je in de buurt bent van een ander apparaat kun je gemakkelijk een bestand, foto of document delen. In de nieuwste update van Windows 10 is dit ook mogelijk met al jouw Windows apparaten. Het werkt via een Bluetooth verbinding.
Overige verbeteringen
Verder vindt je nieuwe verbeteringen in de My People (Mijn personen) app. Zijn er weer een hoop privacy opties toegevoegd en kun je nu ook met het Nederlandse toetsenbord gebruik maken van de Emoji kiezer 🙂 (Kies tijdens het typen voor Windows toets + . of Windows toets + : ) 😉 Daarnaast is het nu ook mogelijk om via de instellingen app te kiezen welke programma's opstarten met Windows. Als laatste brengt de nieuwe Windows 10 update meer ondersteuning voor HDR-beeldschermen.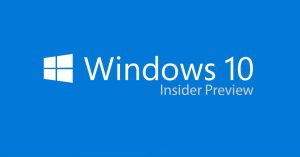 Windows 10 Insider Preview
Wil je nu ook alvast de nieuwste Windows 10 update testen op jouw pc dan kun jij je hiervoor gemakkelijk aanmelden via de Windows Instellingen app. Ga naar Updates en kies in het linker menu voor Windows Insider Preview. Je kunt kiezen uit 3 ringen aan updates.
Release Preview – Je krijgt updates voor Windows 10 net voordat ze aan het grote publiek worden uitgerold.
Slow Ring – Je krijgt regelmatig een nieuwe Windows 10 versie die weinig problemen heeft.
Fast Ring – Je krijgt als een van de eerste de nieuwe Windows 10 versie, let op deze versie kan wel vervelende problemen hebben.
Ik gebruik zelf de Fast ring, af en toe zit er een probleem tussen die het werken op Windows benadeeld maar dit komt bijna niet voor. Je kunt altijd als eerste gebruik maken van de nieuwste functies in Windows 10.
Windows 10 bevat ook de app Feedback Hub, met deze app kun je zelf verbeter voorstellen indienen bij de Windows ontwikkelaars. Heb jij nou een geweldig idee voor Windows, geeft het door en wie weet kan iedereen daar straks gebruik van maken in de toekomstige Windows versie.