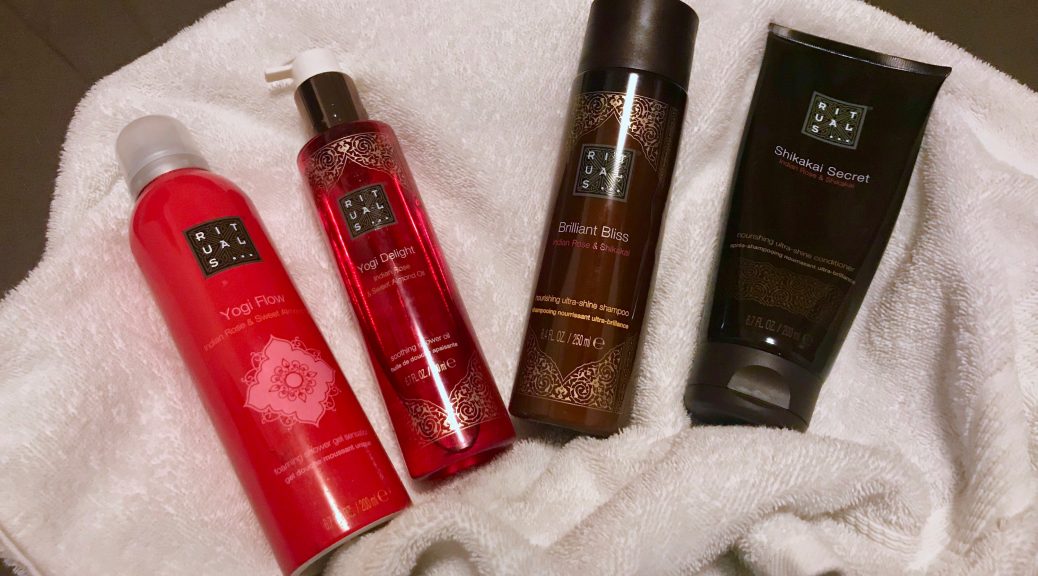 Thuis ontspannen en verwennen met Rituals
Thuis ontspannen en verwennen met Rituals
Douchen en badderen  doet iedereen wel, de één vindt het prettig om elke dag te douchen en een ander doucht zich om de dag. De hoeveelheid maakt mij niet uit, zolang jij je er maar prettig bij voelt en je omgeving er geen last van heeft 😉 . Maar waarmee we ons lichaam schoonmaken kan met duizenden producten. Kijk maar in een gemiddelde drogisterij er is keuze genoeg en een zeer grote selectie aan geuren, elk deel van je lichaam heeft zijn eigen flesje of potje.
Lange tijd heb ik de producten gebruikt die ik vanuit huis mee heb gekregen, Andrelon shampoo en een blok zeep van Dove. Zodra ik bewuster werd van alle optie en ook zelf shampoo en zeep moest kopen werd mijn keuze al snel beïnvloed door de reclame. Ik weet nog dat ik op een gegeven moment in de winkel stond en met 6 flessen Garnier Fructis shampoo thuiskwam, omdat daar zoveel reclame voor werd gemaakt moest het wel goed zijn. Niks is minder waar natuurlijk, maar dat heeft even geduurd voordat ik daar achter was.
Op dit moment gebruik ik voornamelijk de producten van Rituals, het verschil van Rituals producten en shampoo uit de drogisterij is de gehele beleving. Je bent vast wel eens in een Rituals winkel geweest, zo niet beeld je dan het volgende maar eens in.
Je stapt een Rituals winkel binnen, de winkel heeft een warme en natuurlijke uitstraling. Overal zie je aardse tinten en afwerking terugkomen. De Rituals medewerker komt naar je toe met een klein dienblad en vraagt of je een kopje thee wil proberen. (de meeste mensen zeggen nee, ik adviseer je om wel even dat kopje thee te nemen. Zo kom je helemaal in het Rituals moment.) In de winkel staat een prachtige bloesemboom  die je het gevoel van de lente geeft. De winkel is ingedeeld met kasten waarbij elke kast zijn eigen Ritual bevat. Al die plastic flesjes zien er erg mooi uit met een luxe uitstraling. De medewerkster komt naar je toe en vraagt of ze jou kan helpen, je bent opzoek naar een lekkere douchegel. De Rituals medewerker vraagt waar je van houdt en geeft je advies welke Ritual het beste bij je kan passen. Er is zoveel keuze je weet niet waar je moet beginnen, geen probleem want de medewerker neemt je mee naar de waterfontein. Ze pakt je hand en stroopt je trui naar achteren, heel voorzichtig doet ze er een handdoekje omheen zodat je trui niet nat wordt. Ze kiest een geur waarvan ze denkt dat die wel bij je past, zachtjes masseert ze je hand in met de douchegel en laat je deze Ritual ervaren. Je ruikt een heerlijke milde geur, kersenbloesem en rijstemelk . Je hebt zojuist je eerste Ritual ontdekt, de Ritual of Sakura. De medewerkster maakt je hand voorzichtig droog en vraagt wat je ervan vindt. Je voelt je helemaal ontspannen en bent verrast van deze geur.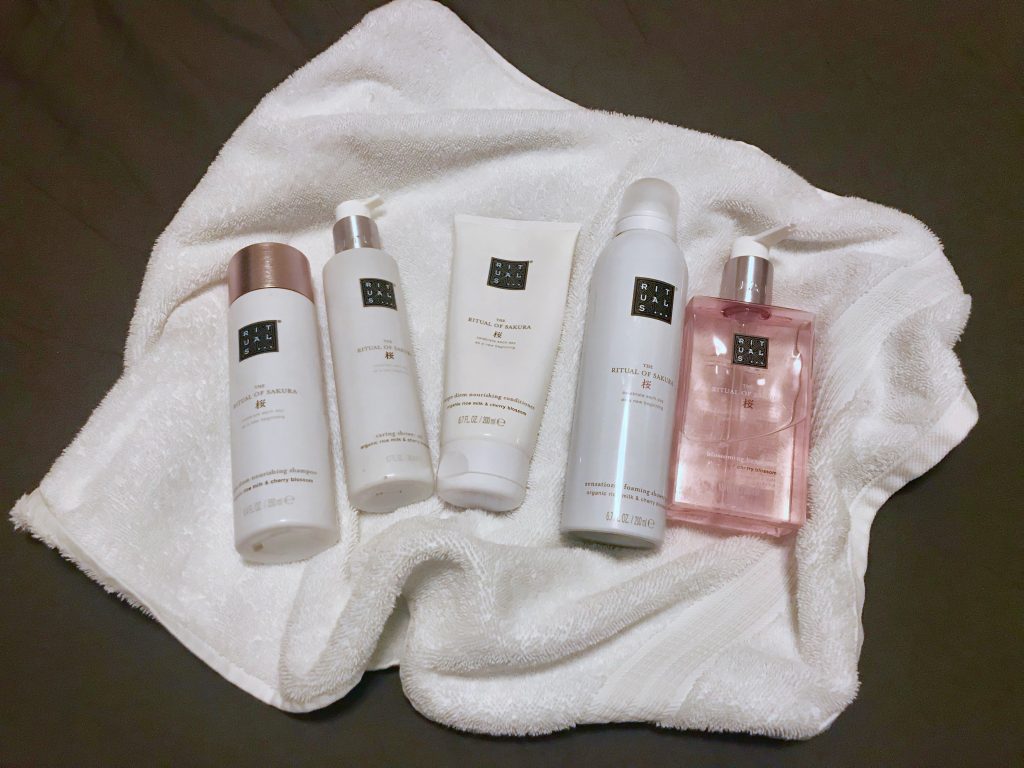 Het kopen van Rituals producten is al een beleving op zichzelf, maar zodra je thuis bent en onder die warme douche stapt begint de tweede beleving. Rituals heeft voor bijna alles wel een product denk maar aan shampoo, douchegel, doucheolie, bodyscrub, bodycream, handlotion, handwash, conditioner en zelfs afwasmiddel. De douchegel is erg fijn maar je moet er wel om denken dat je niet te veel gebruikt, ik mag mij graag helemaal inzepen met een dikke laag schuim maar voor de portemonnee is dat minder leuk. De Rituals beleving is erg fijn en ik beveel het ook iedereen aan, nadeel van deze beleving is wel het prijskaartje dat eraan hangt. De producten zijn van hoogwaardige kwaliteit en je betaald er ook net die luxe prijs voor. Nog een nadeel vind ik dat Rituals nog niet de overstap heeft gemaakt naar producten zonder chemische toevoegingen. Ik ben dan ook erg benieuwd of ze dat in de toekomst wel gaan doen of dat ze misschien wel met een speciale Ritual komen die dat wel heeft.
Ik heb je zojuist meegenomen in de wereld van Rituals. Als je nog nooit de winkel hebt bezocht of één van hun producten hebt geprobeerd dan raad ik je het zeker aan om eens te proberen. Ga op een rustig moment naar de winkel en laat je goed voorlichten door de medewerkers. Rituals Groningen is mijn favoriet en elke keer als ik er langs loop kan ik het bijna niet laten om ook even naar binnen te gaan. Naast het kopen van Rituals voor jezelf is het ook uitermate geschikt als geschenk voor een vriend of vriendin, de producten worden dan in een luxe cadeauverpakking voor je ingepakt.
Heb ik je al overtuigd? Of heb jij een ander product die ik zeker eens moet gaan proberen. Laat snel een reactie!