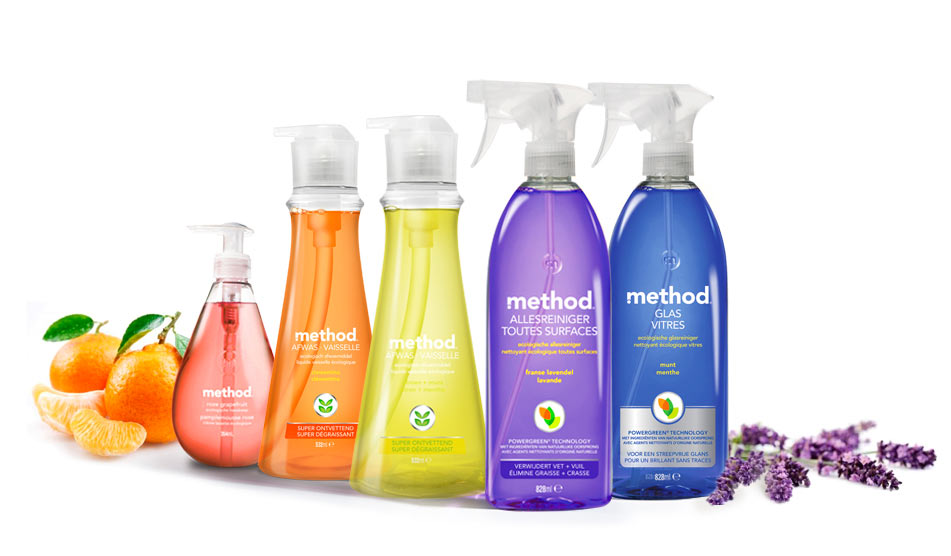 Ecologisch schoonmaken met Method
Ecologisch schoonmaken met Method
Bij het schoonmaken van je huis denk je al snel aan antikalk, chloor of andere chemische reiniging middelen. De laatste jaren is daar een nieuwe groep schoonmaak producten bijgekomen, de ecologische schoonmaakmiddelen. Je zal al snel denken, waarom overstappen op ecologisch als mijn huidige schoonmaakmiddelen prima werken.

Ongeveer 2 jaar geleden kwam ik de eerste schoonmaak producten van method tegen in de AlbertHeijn. Het zijn vrolijke doorzichtige flessen in diverse geuren en kleuren. Voor de grap nam ik een fles allesreiniger mee, thuis aangekomen ben ik gelijk begonnen met het schoonmaken van de keuken. Wat mij direct opviel was de prettige geur die de allesreiniger door de kamer liet ruiken. Geen prikkende of nare chemische geuren die je nog uren lang in je huis ruikt, nee het zijn echt prettige geuren. Daarnaast was de schoonmaak kwaliteit ook prima, het vieze gasfornuis was met een paar keer sprayen schoon.
Na mijn eerste ervaring met deze ecologische allesreiniger ben ik op internet gaan zoeken wat nou eigenlijk het verschil was. Ik kwam er al snel achter dat ecologische schoonmaak producten geen schadelijke bestanddelen bevatten. Op de fles tref je dan ook geen enkel waarschuwingslogo aan. Je zou het eigenlijk gewoon kunnen opdrinken zonder er ziek van te worden, lekker is het natuurlijk niet maar het gaat om het idee.
Wist je dat als je schoonmaakt er vaak resten van het reinigingsproduct achter blijven. Denk maar eens aan je aanrechtblad, leg je er vervolgens een broodje op dan krijg je die schadelijke stoffen ook binnen. Ineens wordt dat broodje een stuk minder lekker met dat idee in je achterhoofd.
Zodra ik meer informatie had over de ecologisch schoonmaak producten ben ik er meer en meer gaan testen en gebruiken. Hieronder een klein overzicht van de beschikbare producten en mijn ervaring.
Allesreiniger Sprays – Gemakkelijk te gebruiken spray, in diverse kleuren en geuren verkrijgbaar. Even sprayen op het oppervlak en afvegen met een doekje. Ik heb een goede ervaring met deze sprays, ze maken makkelijk schoon en laten geen nare resten achter.
Wc-reiniger  – Frisse dennengeur die lang blijft hangen, maakt het toilet mooi schoon. Op de langere termijn merk je wel dat je kalkaanslag krijgt in de wc-pot.
Vloerreiniger – Met een geur van citroen en gember. Het leuke van deze reiniger is dat je hem niet verdunt in water. Je sprayt het direct op de vloer vanuit de fles en gaat er dan met een dweil overheen.
Badkamer reiniger – Met anti-kalk formule maakt het de badkamer mooi schoon. Nadeel is dat je het product vaker moet gebruiken tegen kalkaanslag, de traditionele kalkreiniger haalt de kalksporen sneller weg.
Handzeep – Voor op het aanrecht, in het toilet of in de badkamer. Ik heb de sweet water heel lang gebruik in het toilet. Je handen ruiken zo enorm fijn en schoon daar wordt je gewoon vrolijk van.
Afwasmiddel – Met handige drukdop zodat je niet te veel gebruikt. Maakt de vaat gemakkelijk schoon en voelt prettiger aan dan de traditionele Dreft.
Alles in 1 Vaatwasblokjes – Hier heb ik niet zo'n goede ervaring mee, ik kon zichtbaar merken dat de vaat minder schoon werd en het bestek kreeg lichte roestvorming.
Vloeibaar wasmiddel – Kleur en Wit wasmiddel, heeft een prettige geur en maakt de was goed schoon.
Ruitenreiniger – Perfect voor spiegels en glazen oppervlaktes, minder goed om je ramen mee schoon te maken.
Naast de producten van method heb ik ook gebruik gemaakt van de producten van ecover. Ze komen uit dezelfde fabriek maar hebben beide een andere uitstraling. Mijn voorkeur gaat uit naar method vanwege het mooie uiterlijk van de flessen. Maar dit is natuurlijk voor iedereen persoonlijk.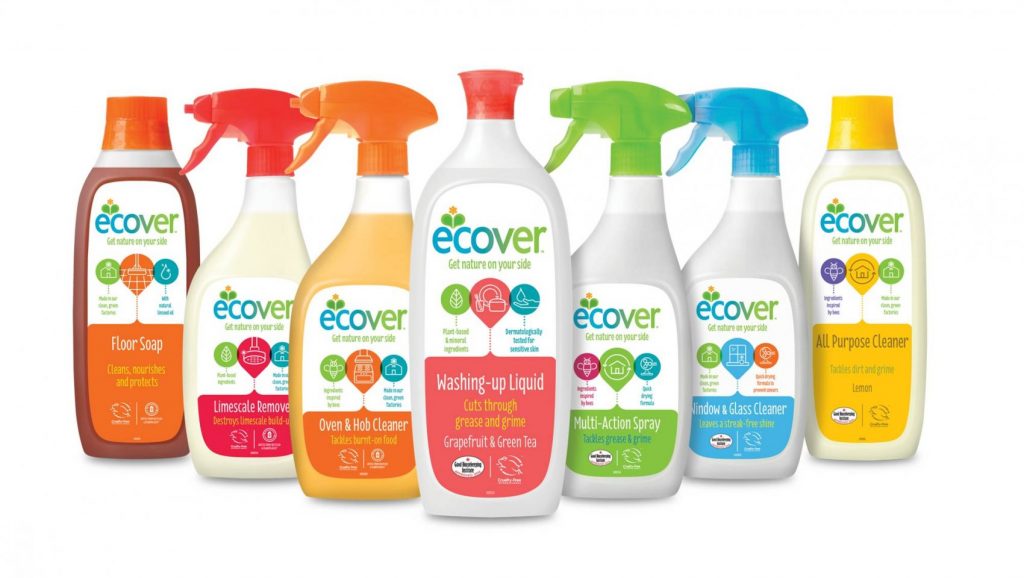 Schoonmaken met ecologische producten, ik zeg doen. Ik heb er een goed ervaring mee en de gedachte dat het niet schadelijk is voor mij en de huisdieren geeft een gerust gevoel.
Heb jij al eens gebruik gemaakt van ecologisch schoonmaakmiddelen? Wat zijn jouw ervaringen?