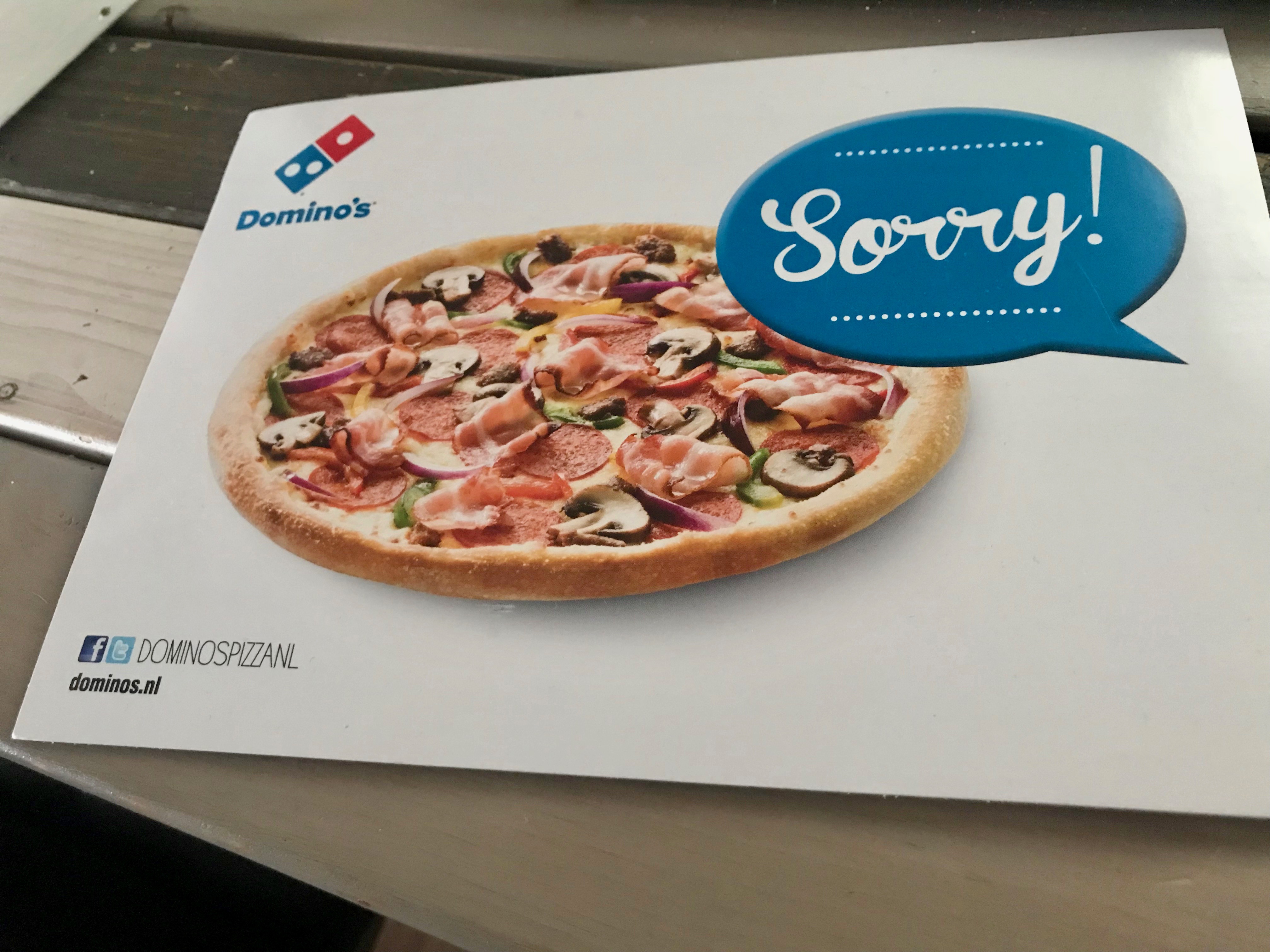 Online pizza van Domino's
Online pizza van Domino's
Je zit op de bank, het is 6 uur in de avond en je maag knort als een gek. Eten koken heb je totaal geen zin in, want je zit net lekker in je trainingsbroek. Je pakt je telefoon en opent de Thuisbezorgt app.
Shit… er is zoveel keuze dat je geen idee hebt wat je wilt eten. Naja dan maar gewoon pizza van de Domino's.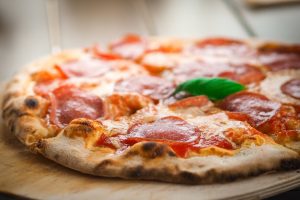 Pizza bestellen bij Domino's kan gemakkelijk via hun site, app of via Thuisbezorgt.nl. In de afgelopen anderhalf jaar heb ik heel veel pizza bij hun besteld. En de volgende punten vielen mij op.
"Uw 2e pizza gratis" Bij bijna elke bestelling die ik heb geplaatst krijg ik enkele dagen later een mooie kaart in de brievenbus. Hierop afgebeeld staat een overheerlijke pizza met de tekst "Sorry". Achter op de kaart staat vermeld dat ik bij mijn laatste bestelling niet de service heb gekregen die ze horen te bieden. Best grappig want ik heb al een enorme stapel van die kaarten liggen. Of ze slagen er niet in om een goede service te leveren. Of ze zijn gewoon enorm kritisch op zichzelf!
Bestel je iets extra's op je pizza? De kans is zeer groot dat je dat extra's niet terugvindt op jouw pizza. Een oud-medewerker vertelde mij ooit dat het bij hun heel slecht staat vermeld en daarom vaak vergeten wordt. Bel je daarna naar de vestiging dan krijg je of een nieuwe pizza gebracht of het bedrag van de pizza terug. Topservice natuurlijk maar wel een beetje jammer.
Heb je via de site of de app besteld dan krijg je de mogelijkheid om sterren te geven. Geef je een lage ster dan kun je dit onderbouwen met een opmerking. Ik zeg doen natuurlijk want je krijg ook bijna altijd weer een reactie terug. Ooit had ik een pizza die zo enorm zout en vies was. Na dit te hebben aangegeven kreeg ik 25 euro pizza tegoed als goedmakertje. En de volgende pizza smaakte weer prima.
Je kan bij Domino's dus altijd voordelig een pizza bestellen. En is de pizza niet helemaal zoals bedoeld dan krijg je of een nieuwe of je geld terug. En als ze zelf ook doorhebben dat het fout gaat krijg je ook nog eens de 2e gratis.
Topservice bij Domino's! Maar ik heb liever gewoon mijn pizza in 1 keer goed op mijn bord.
Heb jij ook zulke ervaringen met het bestellen van jouw pizza, deel het hieronder in de reacties.