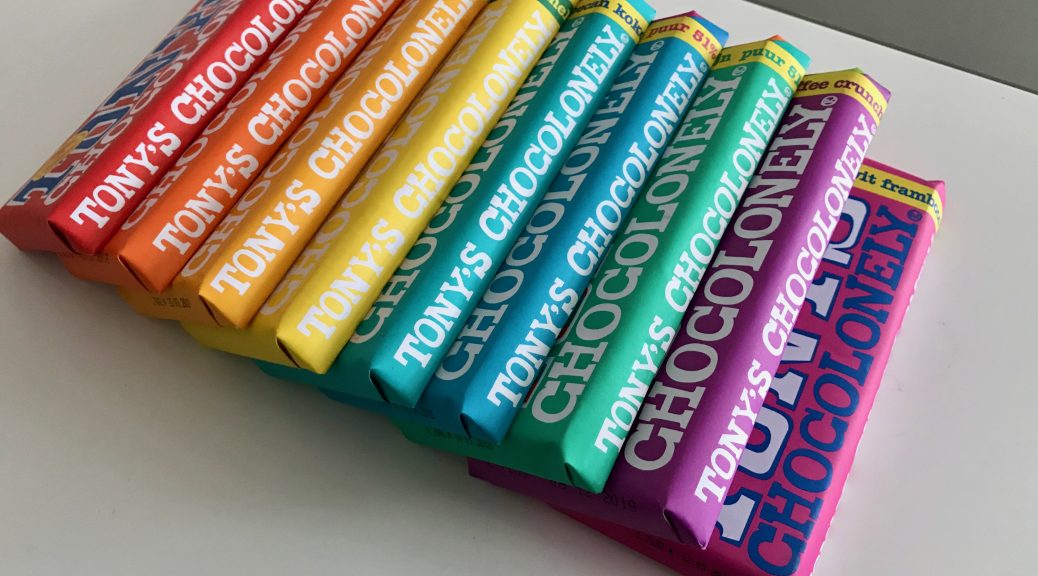 Chocolade verslaving Tony's
Chocolade verslaving Tony's
Waar kan ik jou 's nachts voor wakker maken? Ik zou het niet weten, maar als je mij wakker wilt maken dan gaat dat zeker wel lukken met een reep Tony's Chocoloney!
Het merk chocolade heeft mij nooit zoveel uitgemaakt, al was de één wel lekkerder dan de andere. Ik had een sterke voorkeur voor de Milka chocolade met hele hazelnoten en karamel. Die brak je dan af en de slierten karamel kwamen je tegemoet. Zonder plakken opeten zat er bij die repen niet bij, maar lekker dat ze zijn. Toen kreeg ik een keer een reep van Tony's voor mijn neus. Na het openen van de verpakken werd ik verrast door de oneven stukjes chocolade. Dit was gedaan omdat chocolade van nature ook geen standaard vierkante blokjes zijn, althans zo stond het op de verpakking.
100% slaaf vrije chocolade, het klinkt leuk en als je bezig bent met een beter milieu, duurzaam en/of biologisch leven dan trekt het je waarschijnlijk wel aan. Heel eerlijk gezegd, ik heb mij nooit verdiept in de achtergrond van deze chocolade. Maar wil je daar wel meer van weten kijk dan even op hun site.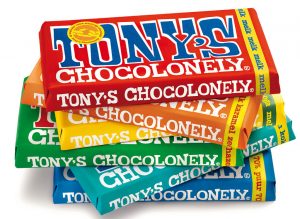 Maar goed even weer verder met het openen van die reep chocolade. Het is een grote reep en je hebt hem in heel veel verschillende soorten en daarnaast brengen ze ook nog regelmatig limited edities uit. De reep die ik als eerste opende was de "rode" melk, heerlijke zachte chocolade met een volle smaak. Vergelijk ik hem nu met een reep van Milka dan heb ik toch een sterke voorkeur voor die van Tony's. Hij is gewoon verslavend lekker en dat heb ik geweten. Tijdens een dieptepuntje in mijn leven at ik zo één a twee repen per dag. En dat voor een paar weken achter elkaar. Het maakte mij voor die dag weer vrolijk en blij, voor mijn gewicht en uiterlijk was het een groot probleem, maar daarover heb ik het wel een andere keer.
Mijn chocolade verslaving is nog steeds aanwezig, maar ik houd het nu bij een paar stukjes per dag of per week. De "rode" melk en "oranje" melk karamel zeezout zijn mijn twee favorieten. Daarnaast heb ik ook altijd wel een reep in huis of op mijn werk in mijn bureaulade.
Ben je ook zo'n chocolade fan? Welke is jouw favoriet en vooral ook waarom? Word jij er ook blij en gelukkig van?