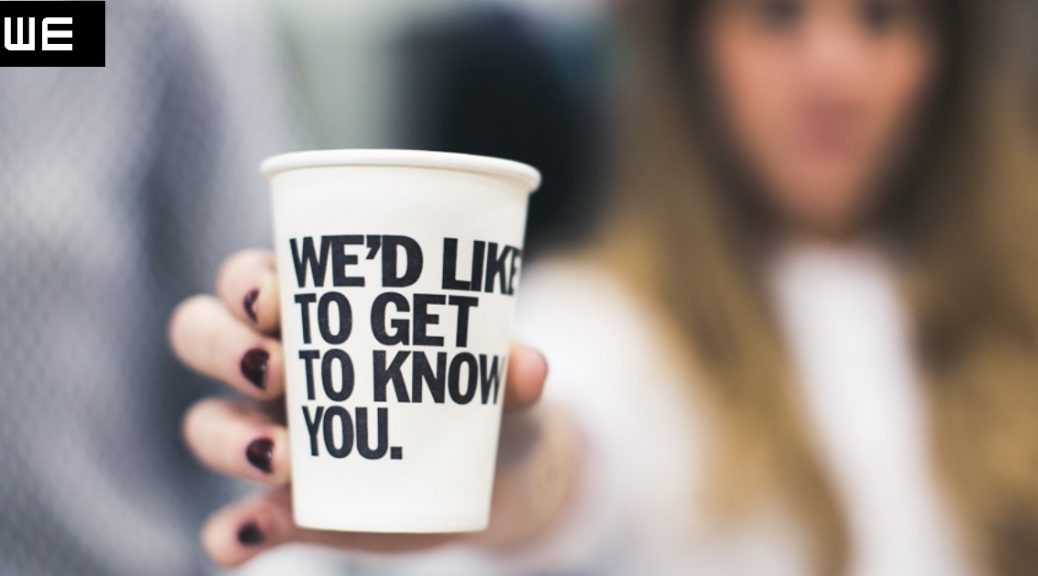 Persoonlijk kleding shoppen bij WE Fashion
Persoonlijk kleding shoppen bij WE Fashion
Soms is het gewoon weer tijd om even nieuwe kleding te halen, je bent uitgekeken op je oude kleding of je kleding past niet meer door een verandering in je gewicht. Ook al houd je niet van kleding shoppen, soms moet je gewoon of je besteed het uit aan je vriend of vriendin. Voor mij was het afgelopen maand ook weer zo ver, al mijn kleding was veel te groot en de riemen hadden te weinig gaatjes.
Een van mijn favoriete winkels om kleding te halen is The Sting, ze hebben een zeer groot assortiment met voornamelijk moderne kleding en frisse nieuwe kleuren. Nadeel van The Sting er loopt een handvol aan medewerkers die voornamelijk bezig zijn met hoe de winkel eruitziet en het afrekenen bij de kassa. Ik heb daar ook nog nooit iemand bij mij gehad die even helpt met het uitzoeken van iets nieuws en dat is gewoon enorm jammer.
Dit keer was ik ook al snel uitgekeken bij The Sting en ging opzoek naar een van de andere kledingzaken in de straat. Al snel kwam ik bij de WE Fashion uit, het is geen enorme winkel maar het assortiment is goed genoeg om even te kijken. Ik werd al snel geholpen door een medewerker, ik was namelijk opzoek naar een mooie nieuwe broek. Maar ja die maat dat is toch altijd een lastig dingetje, vorig jaar was het nog W36L34 maar daar verzuip ik nu in. Voorzichtig begon ik met wat kleinere maten W32 maar de verkoper was er al snel over uit dat W30 veel beter staat en zit.
Tijdens het passen kreeg ik een hand van de verkoper, hij stelt zich voor als Jasper. Aan een kant dacht ik eerst van huh, maar ik vond het ook wel fijn dat hij wat persoonlijker werd bij het zoeken naar nieuwe kleding. Na de broeken wilde ik ook wat nieuwe truien en hij kwam al snel met een verassend groene trui, echt zo'n kleur waarvan je denkt "is dit wel mooi?". Hij moedigde mij aan om het gewoon te proberen en met een mooie donkere broek kwam de trui echt tot zijn recht. Zelf was ik er niet opgekomen om juist die kleur aan te trekken.
Na 3 broeken en 2 truien verder werd ik geattendeerd op de actie 2e jeans halve prijs. Er moest dus nog een broek bij om te profiteren van het voordeel. Nou ja die laatste broek heeft toch wel wat tijd gekost, maar alle hulp en de gezelligheid in de winkel hielpen hier goed aan mee. Tevreden ging ik naar huis met mijn nieuwe kleding.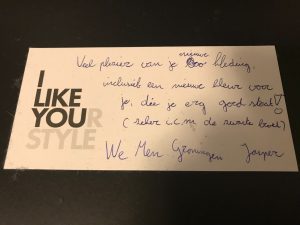 Thuis aangekomen pakte ik alle kleding uit de tas en toen viel er een kaartje uit. Een persoonlijke boodschap voor mijn nieuwe kleding die ik zojuist had gekocht. Ik was echt even verrast en kon mijn nieuwe kleding gelijk extra waarderen. Wat kan een beetje persoonlijke aandacht een enorm verschil maken in een winkel.
Ik zie het de laatste tijd wel vaker tijdens het shoppen, wilt u misschien iets drinken? Kopje koffie? Biertje? Aangenaam ik ben ….. of bij de kapper, heeft u zin in een stukje chocolade? Je kan duidelijk merken dat bedrijven hierover na gedacht hebben. Bij een persoonlijke benadering ben je sneller geneigd om iets te kopen en het geeft je een fijn gevoel.
Zie je het al voor je, je wil een nieuwe tv kopen bij de Media Markt. Van de verkoper krijg je een biertje/wijntje en hij loopt samen met jou langs alle opties. Aan de hand van het persoonlijke gesprek komt de verkoper erachter wat jij graag wil van een nieuwe tv en hij geeft jou 3 keuzes om uit te kiezen. Daarna geeft hij jou een persoonlijke keuze plan mee naar huis zodat je er even rustig over na kan denken en de volgende dag loop jij de winkel uit met je nieuwe tv. Helemaal tevreden. Ik ben benieuwd hoelang het duurt voordat dit werkelijkheid is.
Heb jij ook al zo'n verassende shop ervaring? Laat het weten in een reactie. Misschien hebben we binnenkort wel een leuke lijst met winkels waar je zeker even heen moet gaan.